Re: portable rechargaeble generators
---
[ Follow Ups ] [ Death Valley Talk - Archive Set 4 ] [ FAQ ]
---
Posted by Pugsly on November 13, 2002 at 14:00:46:
In Reply to: portable rechargaeble generators posted by stan on November 13, 2002 at 12:46:22: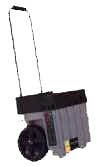 Uhhm... I'm not sure what you are asking for. A generator is a self contained power generation device, usually powered by a small piston driven gasoline engine, and as such does not need to be rechargeable.
But since you mention rechargeable, maybe you are talking about one of those self contained car battery jump-starter things?
There is a company that makes solar powered rechargeable generators, link provided.


---
---
---
[ Follow Ups ] [ Death Valley Talk - Archive Set 4 ] [ FAQ ]